Hey Florence, AZ…. We told you we would keep you posted on your Super Star Car Wash and here we are keeping our promise!!!
Our team at AP Global has done a great job at keeping this project on task and making sure everything is done right!!  The slabs are poured and walls are up.  Can you see the entrance of the wash tunnel?!?!  That entrance is where your experience will begin with top of the line equipment to get those vehicles shining!
We are on track and excited to move on to the next phase!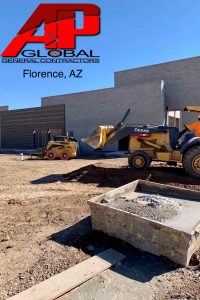 This December is off to a great start!  We are preparing the lot at 3517 N Hunt Highway in Florence, AZ. for a brand new Superstar Car Wash!!!  Once the ground is ready the next steps in the build will be right there waiting to get started. Slabs will be poured, walls will be built, along with plumbing and electrical. We can all be ready for this location to be complete with top of the line car wash equipment!